Mobile ATM/Event Truck
The Honesdale National Bank provides support to local events and organizations with the use of our Mobile ATM & Event Truck. Increase sales, fundraising or support for your initiative with the convenience and accessibility of cash for event attendees.
The truck is ideal for: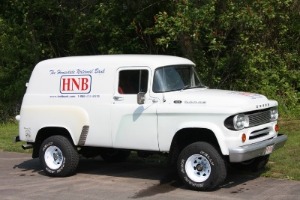 Fairs and carnivals
Festivals and bazaars
Auto/boat/RV shows
Community events and fundraisers
Business grand openings and anniversary events
Conferences and tourism events

About the Truck
HNB's Mobile ATM & Event Truck is a 1962 Dodge Town Panel Truck. It joined the HNB family in 2003 after a frame up restoration and new paint and has been participating in parades and supporting local community groups ever since.
Check out the restoration
!

Request the Truck
When requesting deployment of the mobile ATM at an event, please keep the following in mind:
Submit requests three (3) weeks prior to the event
Ensure the event location allows for a space that is 10 feet wide, 9 feet high and 22 feet long
Ensure the event space is within 100 feet of an electrical outlet (110 volt, 30 AMP service preferred, 20 AMP minimum)
Ensure the event area has a strong cell phone signal

The Mobile ATM & Event Truck accepts HNB ATM, Debit & Credit Cards as well as cards from other institutions with the following network logos: Plus®, Pulse®, American Express®, Discover®, MasterCard®, Visa®, Cirrus® and Quest®