Honesdale, PA – The Honesdale National Bank was once again authorized to make approved contributions under the Commonwealth's Educational Improvement Tax Credit (EITC) Program. HNB designated $2,500 of their approved allotment to the Devereux Foundation. The funds, donated by HNB, will support individuals in all areas of life - from activities like Special Olympics to sensory-friendly spaces and advanced therapy.
HNB President & CEO David Raven stated, "The Devereux Foundation is an important organization in our community that continues to provide support to those in need." He said, "We are glad that we can fund this program to continue to serve our area."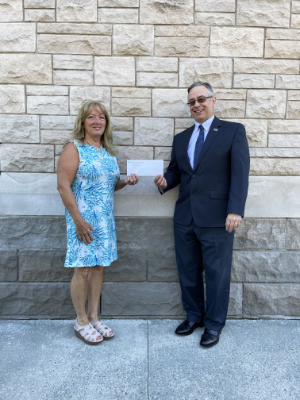 Tina Skod, Executive Director, Devereux Foundation, said, "Despite a number of diagnoses and challenges among those we serve. Devereux remains committed to whole-person health." She continued "This collaborative effort to promote both behavioral and physical wellness puts us at the fore front of the industry, bringing healthcare into the 21st century."
Through innovative programs and therapeutic services, Devereux Advanced Behavioral Health provides transformative healthcare and unmatched opportunity to some of the most vulnerable populations, including those with cognitive, emotional, and behavioral differences.  
Devereux Pennsylvania's individualized, positive approaches to care enables the children and adults we serve to lead meaningful, productive lives. Services are focused in the areas of autism spectrum disorders, emotional and behavioral health challenges, and intellectual and developmental disabilities. Across these programs, Devereux Pennsylvania supports more than 1,000 individuals with autism spectrum disorder.