Home Equity Loans
No matter what the day may bring it's great to have options. Whether planning for a rainy day, capitalizing on an idea or supporting an unforeseen need, HNB's home equity options may offer the right solution for you.

Leveraging the equity you've built in your home, you can increase your cash flow for:


Home Improvements
Debt Consolidation
Auto / RV / Boat purchases
Medical Expenses
Vacations
Weddings
Tuition Payments
 And more

Apply Now
and receive approval within minutes.¹
Home Equity Line of Credit
The flexibility you need. The freedom you deserve. HNB's Flexible Freedom Home Equity Line of Credit allows you to lock in a fixed rate for a term that fits your life and your budget.
One loan approval
No recurring proofs of employment, income, or value of collateral
Choose the length of term
Select rate based upon your preferred term
Save money with no fees to lock in a rate and term
Our Current Rate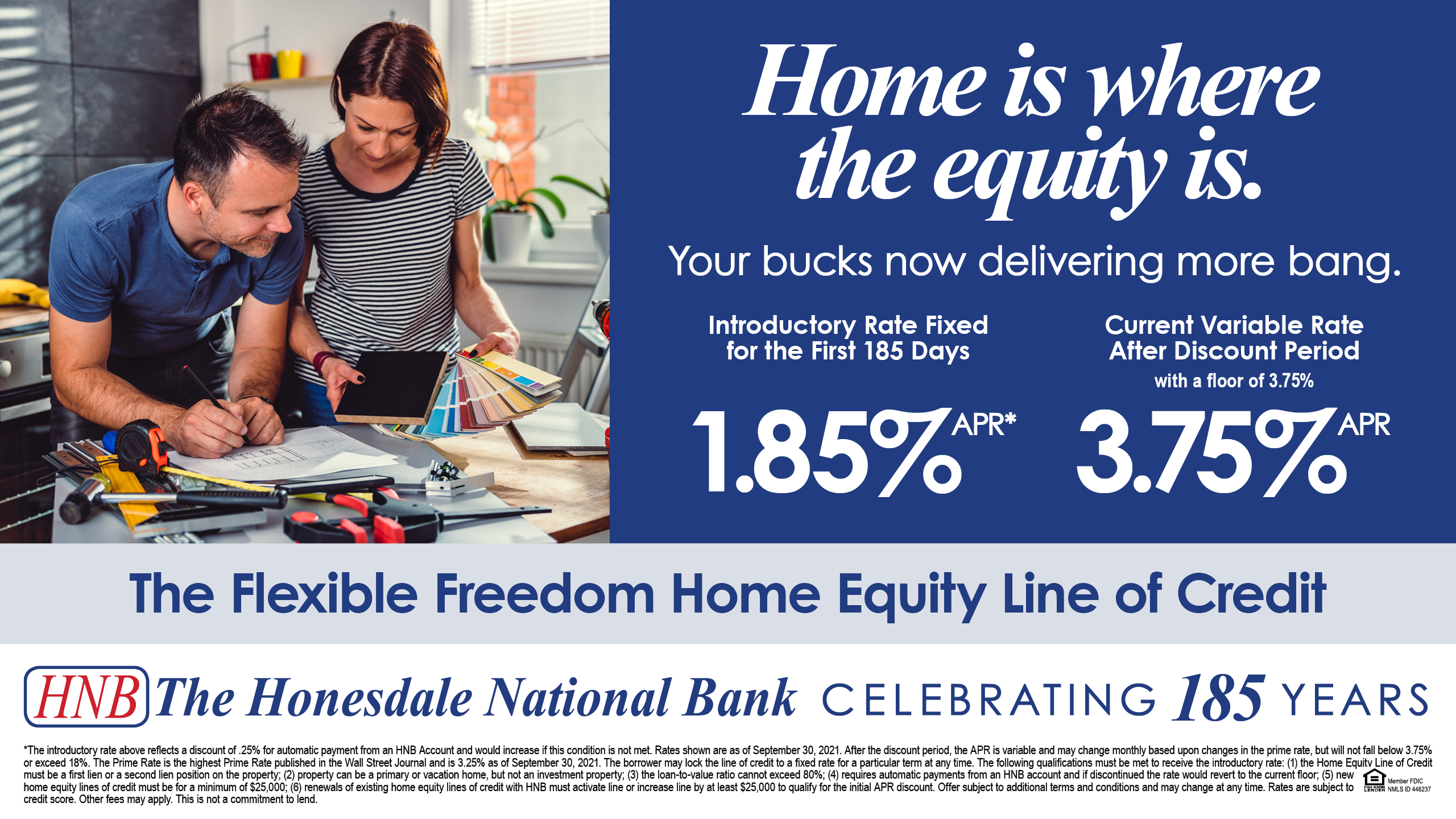 Apply Now
and receive approval within minutes.¹

Have questions?
Any member of our local team of loan officers,
mortgage advisors
can answer your questions and support you with the process every step of the way. Or visit one of our convenient locations to get started today.
Other Loan Options
¹ "Approval within minutes" is available during normal business hours or experience may vary and available to qualified borrowers who meet or exceed the established thresholds for Debt to Income (DTI), Loan to Value (LTV), and Credit Score. Maximum loan amount is $125,000. Other Home Equity Loan amounts and application options are also available. The origination fee, cost of appraisal, and cost of recording are waived for this offer. For properties located in NY State, $100 will be credited to the cost of the appraisal and the customer's portion of NY State Mortgage Tax is at the borrower's expense. Home Equity Loans are subject to credit qualification, income verification, and collateral evaluation. Additional restrictions, limitations, and exclusions may apply.
*The introductory rate above reflects a discount of .25% for automatic payment from an HNB Account and would increase if this condition is not met. Rates shown are as of September 30, 2021. After the discount period, the APR is variable and may change monthly based upon changes in the prime rate, but will not fall below 3.75% or exceed 18%. The Prime Rate is the highest Prime Rate published in the Wall Street Journal and is 3.25% as of September 30, 2021. The borrower may lock the line of credit to a fixed rate for a particular term at any time. The following qualifications must be met to receive the introductory rate: (1) the Home Equity Line of Credit must be a first lien or a second lien position on the property; (2) property can be a primary or vacation home, but not an investment property; (3) the loan-to-value ratio cannot exceed 80%; (4) requires automatic payments from an HNB account and if discontinued the rate would revert to the current floor; (5) new home equity lines of credit must be for a minimum of $25,000; (6) renewals of existing home equity lines of credit with HNB must activate line or increase line by at least $25,000 to qualify for the initial APR discount. Offer subject to additional terms and conditions and may change at any time. Rates are subject to credit score. Other fees may apply. This is not a commitment to lend.