Property for Sale
The following properties are currently for sale by The Honesdale National Bank. Please contact us for additional information or to express interest.
There are currently no cars, trucks, or vans available.
There are currently no boats or other recreational vehicles available for purchase.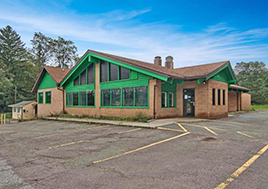 COMMERCIAL PROPERTY

732 Hamlin Highway, Lake Ariel, PA
Fully equipped former restaurant with 7.5 acres of land located on busy Route 590 in Lake Ariel. The main area has a dining room and breakfast bar. There is also an additional area for dining. Plenty of parking.
Price
$399,000
COMMERCIAL ACREAGE
5(+/-) acres in Salem Township, Wayne County, PA. Property is zoned commercial, with 186' of frontage and easy access on Route 590. Great visibility - across from the Post Office! (Please refer calls for this property to Luke W. Woodmansee or Kate Bryant at 570-253-3355 or 1-800-462-9515.)
Price
$199,900